Shares in the Nasdaq-listed BBBY are up 70 per cent in the past five days, reaching a two-month high of US$11.4 a share on Monday, before plummeting 14 per cent in Tuesday's trade. AMC shares are up 30.5 per cent in the past five days but fell 6.3 per cent on Tuesday.
The trading and social media activity have shades of the GameStop saga early last year, in which Reddit traders pushed the price of the electronics retailer up 1700 per cent, forcing short-seller Melvin Capital to accept a bailout.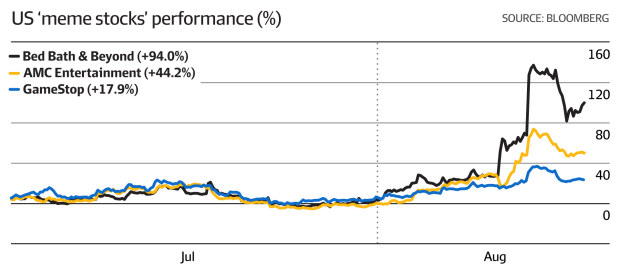 'There will be tears'
Selfwealth data suggested 80 per cent of its customers who traded BBBY in the past month also owned GameStop.
But markets commentator and former banker Danielle Ecuyer, who wrote a book on US share trading, said local traders hoping to repeat the easy gains of the GameStop rally needed to realise the global economy had entered a major downturn since last year.
"The punters are hoping that we are back to the good old days and nothing is wrong. It's totally wishful thinking," Ms Ecuyer said.
"You can run hard for a while, but in the end there will be tears because we are not back to 2020-21 conditions. The macro situation has fundamentally shifted."
Any investors who had taken on leverage (investing debt) to turbocharge their trades could be nursing big losses once the reality of rising inflation and lower consumer expenditure catches up with the hype-fuelled market.
BBBY's most recent earnings disclosure was "pretty dire", she said, with gross profit down 22 per cent to $US2.4 million ($3.4 million), indicating that the rally in the company's shares was not because of bullishness about its performance.
"There's a reason the stock is being shorted," Ms Ecuyer said.
Superhero co-founder John Winters said many of his customers buying shares in so-called meme stocks were probably motivated by social media posts in investing forums.
"We know that platforms like Reddit are very popular with investors and the recent popularity of stocks like BBBY and AMC looks to be driven by hype on some of these platforms," he said.
The WallStreetBets Reddit forum, which has 12.4 million members worldwide, has been abuzz with mentions of BBBY and AMC, as well as GameStop, which is up 11.4 per cent over the past five days.
Mr Winters warned investors needed to remember the risks of trading before they bought or sold securities. "It's buyer beware."
Selfwealth chief executive Cath Whitaker said educating customers about market risks was a better approach than placing restrictions on choice.
"Selfwealth provides customers educational content around [GameStop] … and we'll do the same with BBBY and AMC to ensure our investors understand how to stay in the market for decades, not days," she said.
The platform, which has more than 120,000 active users (about a third of whom have access to the US market), was the only Australian player not to block trades in GameStop during the infamous rally in January last year.
Some Reddit users have presented their trades in GameStop and other stocks as a form of culture war, seeking to wrong-foot Wall Street players and demonstrate the people-power of "social trading".
But Ms Ecuyer downplayed cultural themes such as a generational rift between Millennial and Baby Boomer investors or the democratisation of access to markets.
"There's obviously still too much liquidity in the system," she said. "It's not a whole lot more complicated than that."