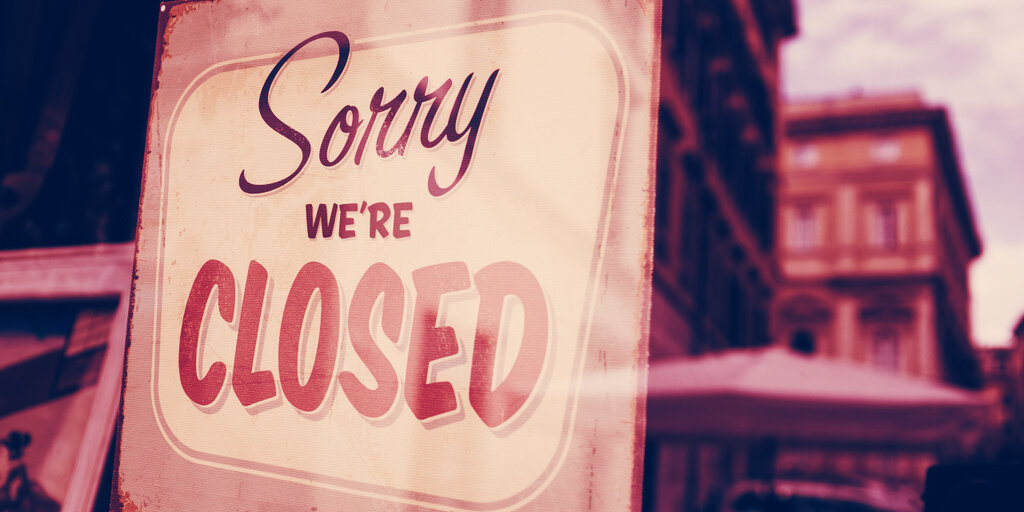 Publicly traded blockchain services company Eqonex Limited (EQOS) announced on Monday that it will shut down its cryptocurrency exchange operations, citing falling trading volume, "intense market competition, and low margins."
The exchange will close on August 22. That gives customers one week to close their derivatives trading positions, after which all trading on the platform will cease. The exchange's customers will also be given until 8:00 a.m. UST on September 14 to withdraw their crypto assets to an external wallet. All withdrawal fees will be waived during this time, the company said.
Meanwhile, the exchange's native EQO token, which cannot be withdrawn, has immediately ceased trading. Holders will be contacted directly with details about their EQO balances.
"Closing the Exchange will significantly simplify our business, narrow our focus, free up resources, and allow us to operate as a more efficient organization with capacity to aggressively go after market segments that offer the most potential," Eqonex CEO Jonathan Farnell said in a statement. Farnell previously served as Binance's head of U.K. operations before transitioning to Eqonex in March.
Nasdaq-listed Eqonex launched its crypto exchange in July 2020 during a period of rapid growth in crypto markets that culminated in new all-time highs for Bitcoin and Ethereum just six months later. In October, it became the first crypto exchange that had a parent company listed on the Nasdaq. The company celebrated having achieved $5 billion of trading volume within a 30-day period in June 2021, and suggested at the time that it was "only up" from there for the exchange.
But that was then and this is now, with crypto markets entrenched in a months-long bear market. The company now plans to redirect resources toward its custody and asset management business, Digivault. The asset manager became the first crypto custody provider to receive approval from the United Kingdom's Financial Conduct Authority in 2021, according to the company.
Eqonex hopes that, by closing its crypto exchange, it will be more competitive in other areas of its business. "The market is now comprised of close to 300 spot exchanges, many of which share comparable features," the company said. "The recent extreme market volatility and declining trading volumes have added to the headwinds being felt by exchange operators. We take a realistic view that our exchange will not move the needle for us financially over the near-to-medium term."
Even the most competitive crypto exchanges have struggled in the face of declining volumes and crypto prices in recent months. Blockchain.com announced a 25% workforce layoff in July citing flat institutional revenue. Coinbase let go of 18% of staff in the previous month, after which it posted a $1 billion net loss in its Q2 earnings report.
Stay on top of crypto news, get daily updates in your inbox.